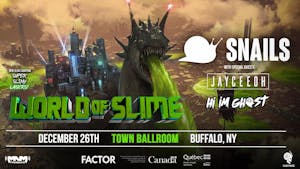 Snails
Jayceeoh, Hi I'm Ghost
Town Ballroom
Buffalo
,
NY
Snails, JayCeeOh, & Hi I'm Ghost appearing at Town Ballroom in Buffalo, NY
No one under 18 admitted. Government issued identification is required for entry. No exceptions.
Snails is a Montreal-based producer and DJ who pushes a forward-thinking brand of dance music combining trap rhythms, dirty bass lines and off-kilter sound design. His first tracks appeared online in 2012 on Kannibalen Records. Since then he has amassed a burgeoning fanbase of snail-heads and bass- lovers. Recent releases like "Dirty Raxxx", "RBBR" and "SLUGZ" blend hypnotic melodies, huge drops and mind-bending sample manipulation into a tight, dance- floor friendly package. Snails' latest track "Wild", co-produced with Antiserum and released on Skrillex's Owsla Records, was one of the standout tracks at the 2014 edition of Ultra Music Festival. Having recently signed with Circle Talent, Snails looks primed to bring his unique take on dance music to the mainstream.
Over the past few years JayCeeOh has elevated his brand from premier DJ to one of the most influential DJs in music. He is a rare breed of artist who combines top notch selecting, turntablism, and stage presence to move crowds sized from intimate gatherings to mega-clubs and festivals. Through 16 years perfecting his craft, JayCeeOh has proven to be a leader for the next level of party rocking. A master DJ who can integrate any genre of music at the drop of a hat. Hip-hop, House, Electro, Dubstep, Top 40, Disco, Rock, Mash-up, Funk, Soul, Reggae, etc are all in his bag of tricks.
His talents have taken him across the United States as well as 32 different countries around the world including many hot spots in Europe, Asia, Canada, Brazil, and Jamaica. His loyal fan base has grown around the globe including strong holds in his multiple hometowns of Los Angeles, New York City, Pittsburgh, and Boston. January 2011, JayCeeOh won 1st place at the National McDonalds Flavor Battle Finals. Last December, JayCeeOh was enlisted by Sony/RCA recording artist Sammy Adams to be his official tour DJ for his major label debut. Since connecting with Sammy, they have performed multiple arena sized performances along side todays biggest Pop Music stars, as well as national TV performances on 'Conan O'Brien', '90210', and recently shot a pilot for a MTV show in the works.
JayCeeOh spent his high school years at the now infamous Taylor Allderdice H.S. in Pittsburgh, PA. Allderdice alumni include Wiz Khalifa and Mac Miller and the founders of their label, Rostrum Records. Throughout Wiz Khalifa's ascent to hip-hop's elite, JayCeeOh held down Wiz and the Taylor Gang with mixtape features as well as being his special occasion tour DJ. JayCeeOh is also the creator of the "Super 7" mix series which is a annual project that is five volumes deep which boasts a rotating roster of worlds best DJ's doing ten minute mega-mixes. JayCeeOh combines certified legends (Jazzy Jeff , Z-Trip, Revolution, etc ) with the next generation of DJ superstars (Spider, Gaslamp Killer, Cosmo Baker, Ross One, Mick Boogie, etc) and molds the mixes into a seamless musical journey. The Super 7 Series is critically acclaimed and has become an institution in the International DJ community. With over 500,000 units moved of his critically acclaimed mixtapes, remixes, and edits, Jay has become a household name when discussing DJ's who are leading the pack.
JayCeeOh has provided sounds for some of the most well known brands in sports, entertainment, and fashion including Burton, Nike, Red Bull, McDonalds, Adidas, Oakley, Comedy Central, Warner Bros Records, and Playboy. He has been spotlighted in multiple magazines, periodicals, and websites including The Source, Complex Magazine, MTV.com, The New Yorker, New York Press, Village Voice, New York Post, Perezhilton.com, URB, Remix, Tablist, Boston Globe, Highsnobiety, Daily Dose, Elemental, Under Pressure, Okayplayer, and Beautiful/Decay. Early in his career Jay collaborated with some of hip-hop's elite, including songs with Talib Kweli, J-Dilla, KRS-One, Little Brother, Sean Price and Pete Rock. His early battle days resulted in 2nd Place 2006 DMC US FINALS Team Competition, and 3rd Place 2006 DMC US SUPREMACY. Focused on party rocking, backed by his technical precision and musical depth, JayCeeOh's experience and versatile talent has made him one of the next major DJs on the rise. No matter what the occasion is, JayCeeOh will deliver.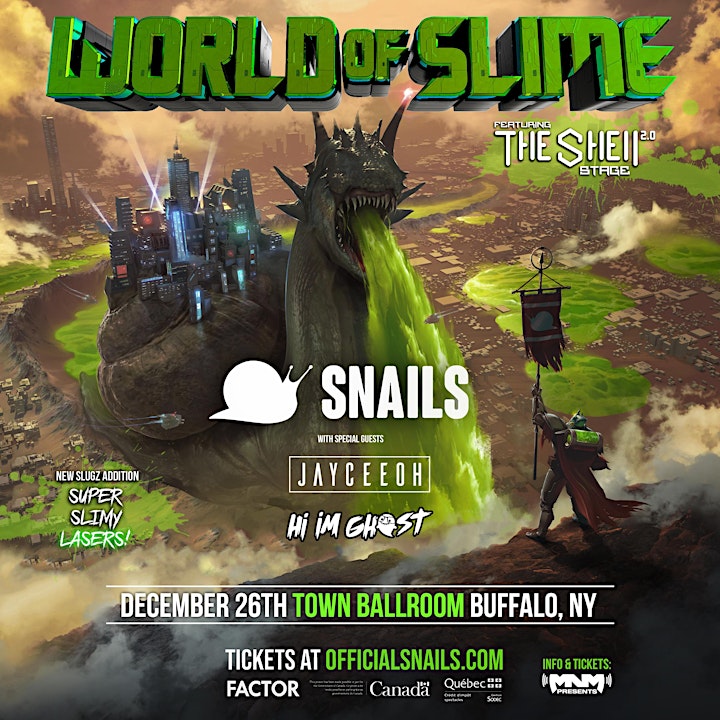 Venue Information:
Town Ballroom
681 Main Street
Buffalo, NY, 14203